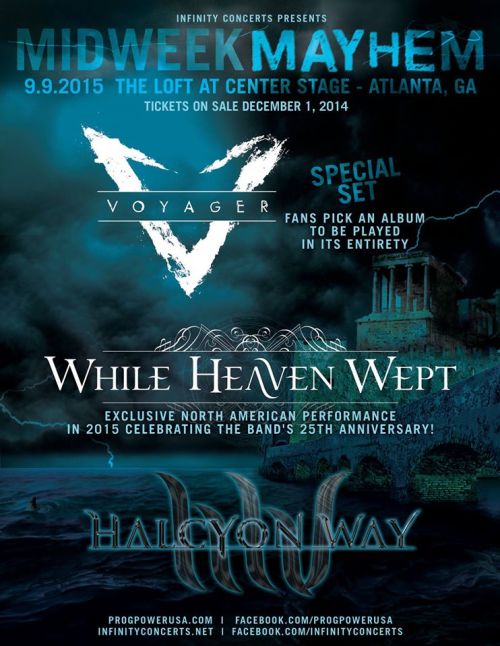 Midweek Mayhem, opening night of the renowned ProgPower USA festival has its lineup officially unveiled for the 2015 edition of the show, to take place on Wednesday, September 9th, 2015 at the Loft at Center Stage in Atlanta, GA. The show will mark the official beginning of the sixteenth edition of the yearly festival.
Australian ProgPower USA favorites VOYAGER are confirmed as headliners performing yet another exclusive, never-before-seen set. Fans will get the opportunity to vote for a Voyager album to be played in its entirety, but with a twist: the album chosen will not be announced – it will remain a surprise for all fans – to build up anticipation never-before seen.
Joining Voyager will be North American epic metal heroes WHILE HEAVEN WEPT performing a career-spanning set celebrating its 25-year anniversary. This will also be While Heaven Wept's only North American show in 2015. A rare opportunity to see a band who has acquired cult-status worldwide performing classics from its entire discography. Guitarist Tom Phillips offers his thoughts on the show:
"Anything related to ProgPower USA is a special event, and couple that with our 25th Anniversary as well as the overwhelmingly positive response to "Suspended At Aphelion", we're ecstatic to announce a special set spanning our entire career, exclusively at the opening night of the festivities via Midweek Mayhem! Being that we'll be on tour in Europe much of 2015, don't miss this opportunity to celebrate quarter of a century with us upstairs in the Loft at Center Stage!"
Last but not least, Atlanta's very own leading metal band HALCYON WAY will bring their killer combination of aggressive and melodic metal to Midweek Mayhem. It's been a few years since the Billboard-charting band has performed at ProgPower USA. The time has finally come for a much anticipated return.
Midweek Mayhem at ProgPower USA is produced by Infinity Concerts. Tickets will be available on December 1st, 2014 via Ticket Alternative. More details to be announced soon, including information on special VIP tickets. Keep an eye on the ProgPower USA and Infinity Concerts pages for more information coming soon.
http://hardrockhaven.net/online/2014/11/voyager-while-heaven-wept-halcyon-way-announced-for-progpower-usas-midweek-mayhem-event/